Guess The Horse! (Android App)
Simple quiz based on guessing the breed of a horse given a picture, accompanied by educational facts of each breed. Built in Java.
Taken from the play store:
Test your horse knowledge at guessing the correct breed of horse for each image. Simple quiz in which you must try to guess to the corresponding horse to the picture given. The game also comes packed with a knowledge base of facts and pictures of different horse breeds for you to learn about.
-Great for learning different types of horses
-Over 50 different breeds to test your knowledge with
-Three game difficulties, for varying skill levels: Easy, Hard, Extreme
-Two game modes: Freestyle, and Timed
-Tablet and landscape mode supported in game
-Google Game Services fully integrated to provide leader board and achievement support
-More than 120 different images of horse breeds
The main purpose of this app was to learn about app building, and getting to grips with the Android API. I wanted to build a stable app that worked as efficiently as possible with no errors, and would work on all Android compatible devices. As of writing this the app has had over 2000 downloads from people all around the world, and also has a number of good reviews.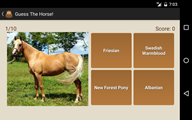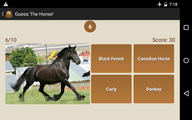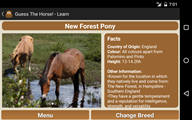 You can get the App from both the Google Play Store, and Amazon Appstore: